Kogonada's After Yang
Amazon description: When a young girl's beloved robot-companion suddenly becomes unresponsive, her father searches for a way to repair it. As he digs into the issue, however, he finds that his relationships with his wife and daughter are in need of repair as well.
Kogonada's latest movie is After Yang. IMBD trivia points out that Kogonada found himself returning to a passage from Walker Percy's "The Moviegoer" that has always stayed with him:
"The search is what anyone would undertake if he were not sunk in the everyday-ness of his own life. To become aware of the search is to be onto something. Not to be onto something is to be in despair."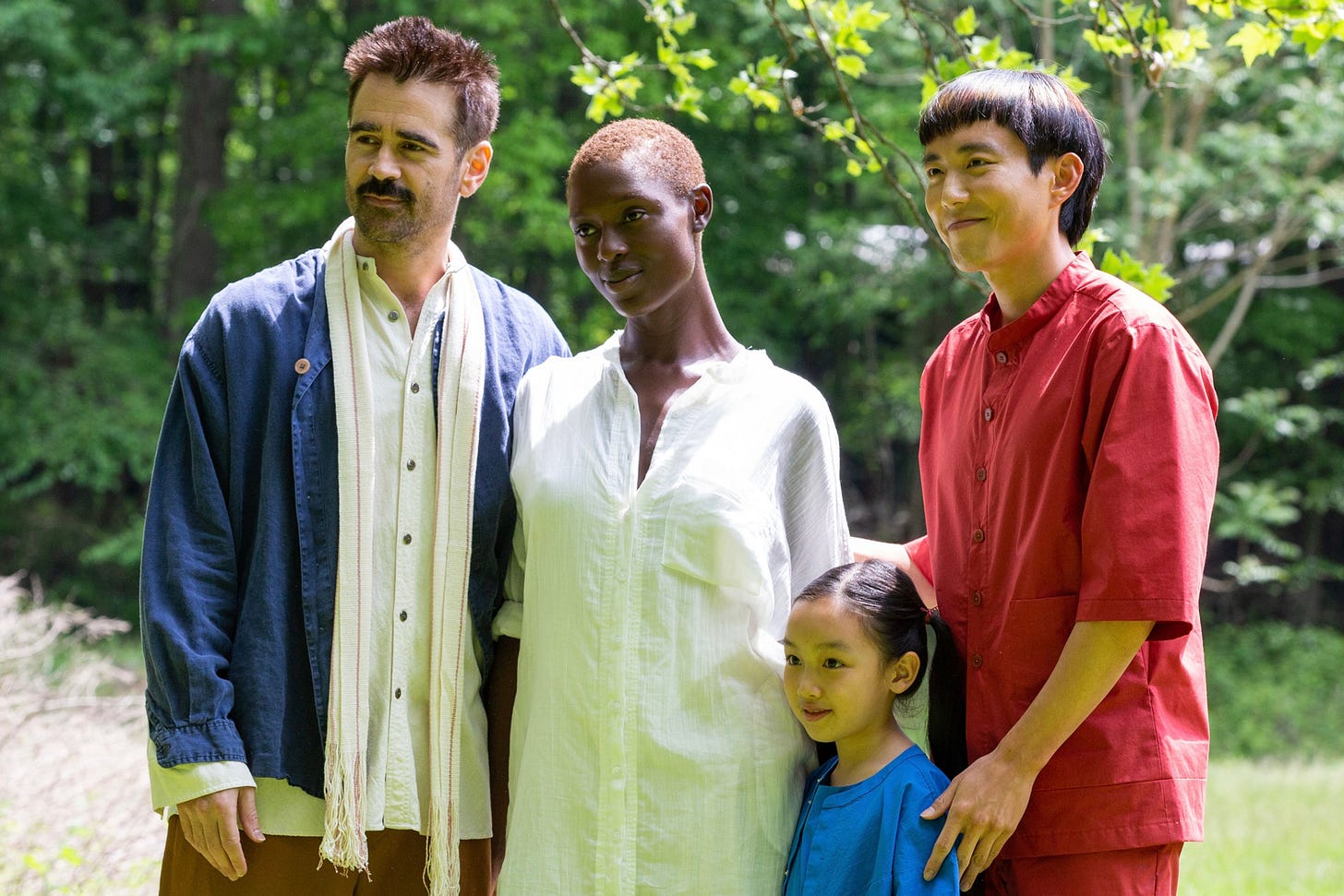 I liked the movie because of its title sequence dance number (compare it to the below title sequence Kogonada said he was referencing) and Colin Farrell's performance. But I loved it because it takes a device like sci-fi AI that on its own could be tired and uses it to call attention to the search.
The artificial intelligence theme of After Yang could distract. It could be boringly cliche. But Kogonada employs it to direct attention to quieter themes like belonging and purpose. Familiar but mysterious snapshots from the near-future world of the movie dislodged me just enough from my expectations about what an AI movie should do. It left me primed to engage with less visited terrain on grief and passion. I entered the movie ready for trippy sci-fi thought experiments. I left the movie thinking about life's search.
This is best captured during a scene where Collin Farrell references another movie, All in This Tea.
*****
Collin Farrell's character is a tea seller. In the movie the AI "technosapian" Yang asks why Farrell has "given his life to tea" which Farrell observes "sound pretty serious."
Farrell goes on to explain how he has acquired a liking to tea but was initially drawn in by "the idea of tea."
He talks about watching the documentary All In This Tea (which is weirdly hard to find online but you can rent on vimeo) about an American's search for the best tea in China.
"I think it was his searching that compelled me… The pursuit of this elusive thing, this process that is connected to the soil, the plants, the weather, to a way of life."
But he also "likes the taste." Farrell goes on to do an all-time impersonation of an all-time Werner Herzog moment from the documentary.
In the scene, the American tea search says that there are no words to describe the tea he and Werner are tasting. Werner replies ***in Bavarian Werner Herzog voice***:
"Yes, but I imagine things like walking through a forest and there's some leaves on the ground and it just had rained and the rain has stopped and it's damp and you walk and that, somehow, that is all in this tea."
After delivering the line, Farrell says how he loved that so much. I loved it so much too.
"Somehow that is all in this tea."
*****
After the impersonation, Yang asks Farrell if he believes it: "That a cup of tea can contain a world. That you could taste a place, a time?"
Farrell replies that he is not sure if he can taste the forrest. I suspect most of us have at times felt some version of that.
And that's what I think After Yang does so well. Kogonada's "sleight of hand" does just enough to take the viewer out of the everyday-ness of their own life and point them onto… something.
*****
Is Werner's description actually how tea tastes? Not superficially. But it certainly gestures towards some ecstatic truth. And that is cinema at its best. It does more than simply record motion through a camera. Though the manipulation of motion, it exposes new places and explores emotionally resonant truths.
"The search is what anyone would undertake if he were not sunk in the everyday-ness of his own life" and that is somehow all in After Yang.
(Check out this interview with Kogonada and this review of After Yangfrom Filmspotting for these points all made more thoughtfully. That interview also introduced me to After Life by Hirokazu Koreeda which I watched after listening and I think is one of the best movies I have ever seen.)
A Stretch Connection to The French Dispatch
In a scene towards the end of The French Dispatch, Jeffrey Wright's Baldwin-esque character is talking to the chef played by Steve Park (underrated, imbd). Wright says he admires Park's bravery for eating the poison mushrooms to save the day.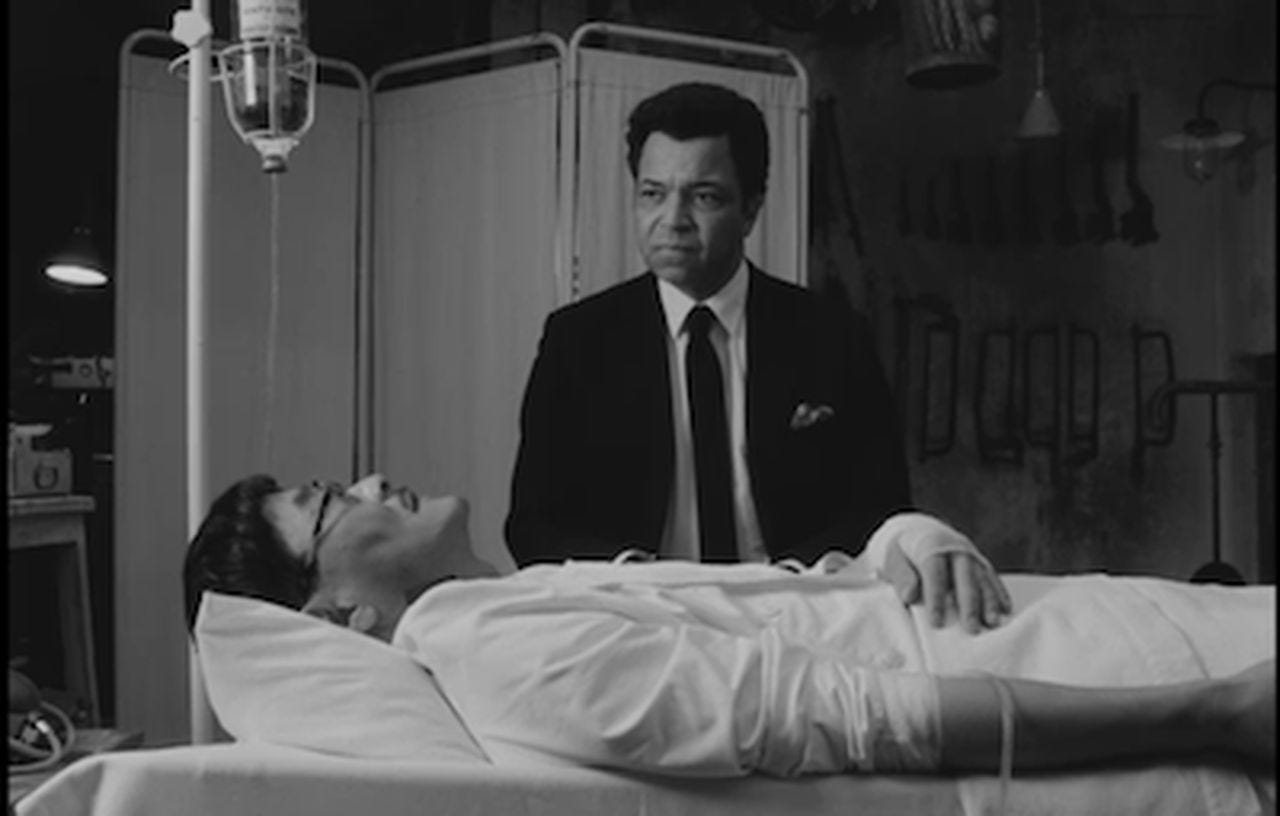 The chef replies he wasn't brave. "I just wasn't in the mood to be a disappointment to everybody. I'm foreigner you know." Wright replies that he too is a foreigner. This exchange follows:
Park: Seeking something missing. Missing something left behind.

Wright: Maybe with good luck, we'll find what eluded us in the places we once called home.
That's the best part of the whole movie. And something about it rhymed with After Yang for me.
"The search is what anyone would undertake if he were not sunk in the everyday-ness of his own life. To become aware of the search is to be onto something. Not to be onto something is to be in despair."
Bonus: Like Columbus but Different
Columbuswas Kogonada's first movie. The 100 minute film about big questions in a small town hypnotized me when I watched it back in 2018.
The movie is set in a small town called Columbus in Indiana filled with eye catching modern buildings. The dazzling buildings contrast almost too well with the quiet tone of the movie. The characters search after life's big questions under the presence of striking modern architecture. While watching the movie I assumed this was a fictional place created with CGI.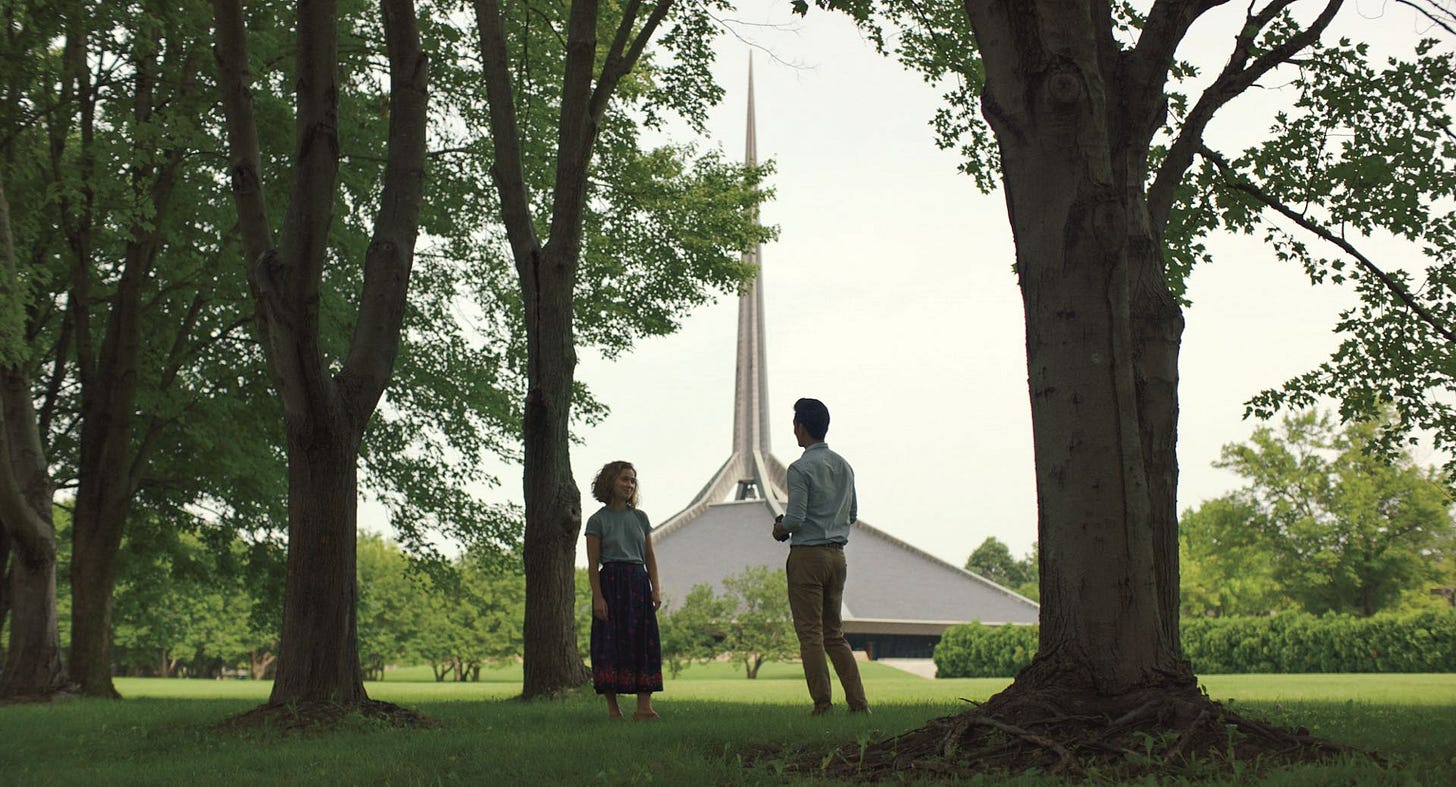 But after reading more about the movie and learned that Columbus, IN is a real place. It is 30 minutes south of Indianapolis and the headquarters of Cummins, a company that makes engines and does over $20B in annual sales (Twitter did $5B last year).
During the post-war period Cummins was run by J. Irwin Miller. Luckily for the residents of Columbus as well as a bunch of mid-century architects, Mr. Miller really liked a good looking building (and living in a good looking place that attracted top talent). He established a foundation that paid architects' fees so Columbus ended up filled with buildings by the likes of like Eero Saarinen, Harry Weese, Kevin Roche, and I.M. Pei.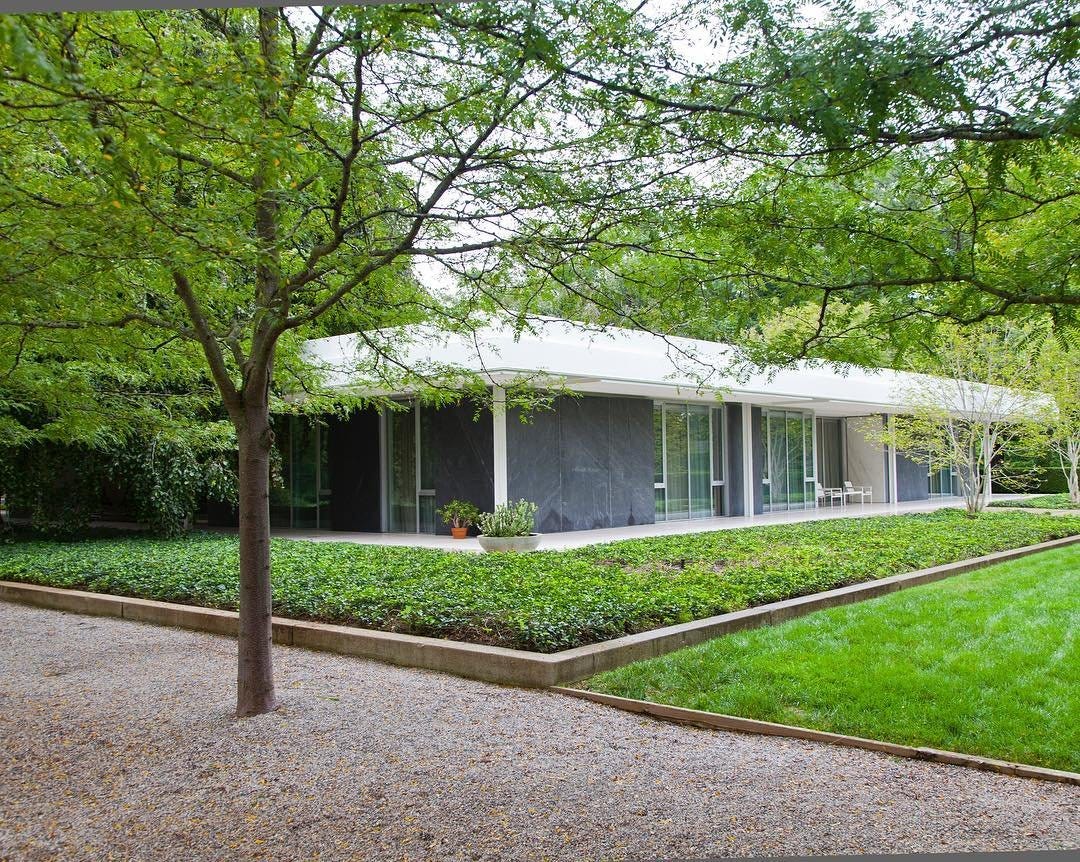 I watched the movie a few weeks before moving from Chicago to Austin so I dropped in on the "Athens of the Prarie" during my drive to Texas. It lived up to its nickname. It is a cool model of commerce supporting art and vice versa. I've gone back once since and can't wait to go back again.
*****
I still think about this movie years after seeing it. And obviously the setting of Columbus is memorable. But the architecture is not what left the lasting taste in my mouth.
Columbus performs a similar sleight of hand to the one in After Yang. A could-be distracting element (striking modern architecture/sci-fi AI) is used to pull the viewer out of the everyday-ness of their own life and become aware of the search.
For objectively quiet movies, Kogonada's films really keep you on your toes.